Now we are moving to our new Facility
Our new address (01.11.2020):
Alter Hafen Süd 6
18069 Rostock
Germany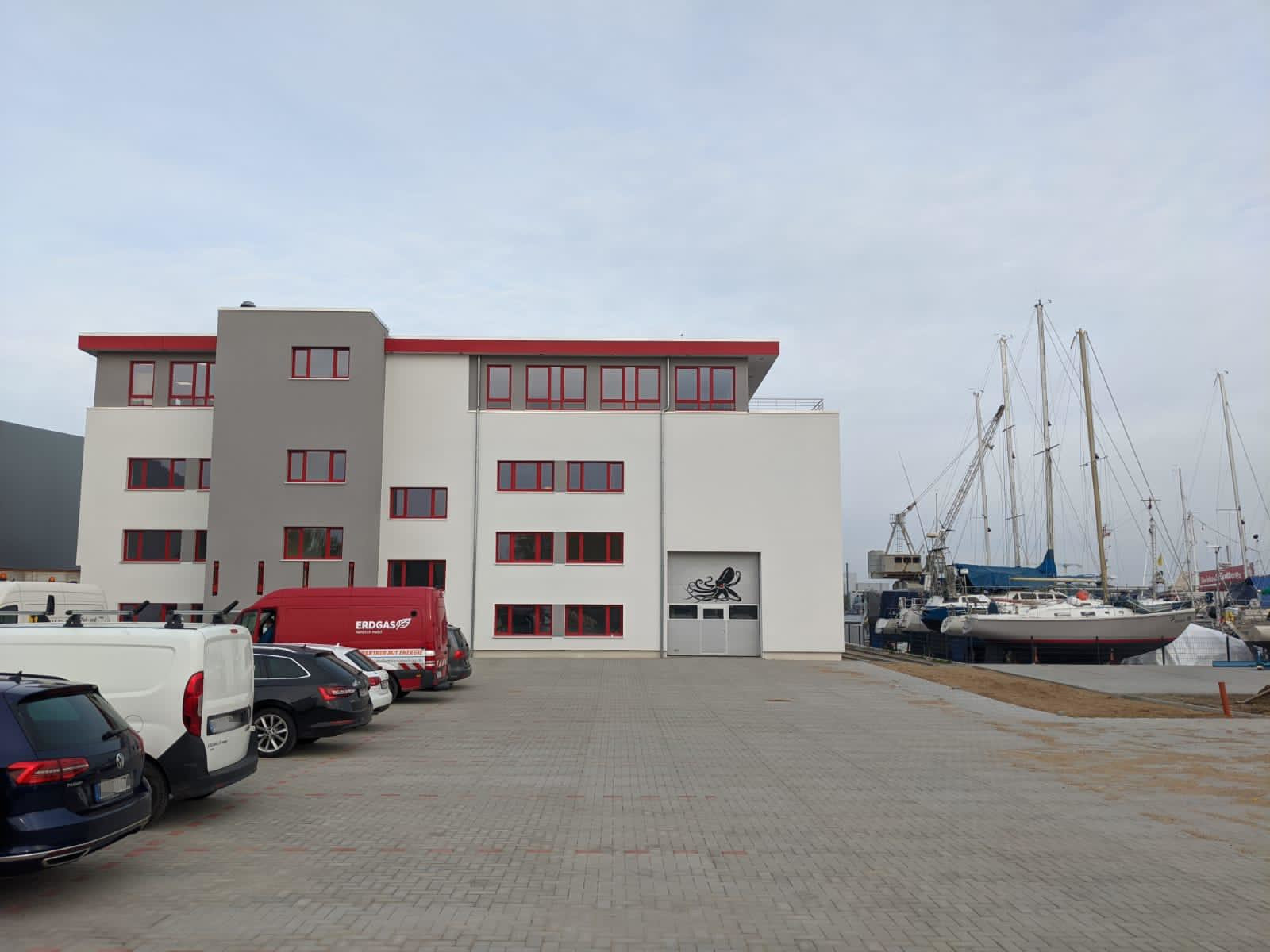 Image source: OceanologyInternational.com website, 05.03.2020
Oceanology International 2020 postponed
Today it has been announced that Oceanology International Exhibition & Conference will be postponed and will now take place from 1-3 December 2020 at the ExCel, London, following the escalation of COVID-19 in Europe.
Speaking about the announcement, Jonathan Heastie, Portfolio Director at Reed Exhibitions, said: "The health and safety of our exhibitors, visitors and staff is of course our number one priority. We have been closely monitoring the situation and the notices issued by the World Health Organisation (WHO) as well as Public Health England and the authorities in London. We have also been in regular dialogue with many exhibitors, visitors and conference speakers to understand their views and to ensure we make the best decision – in such challenging circumstances – for the ocean communities we serve".
Kraken will be present at the Oceanology International in December. Visit us at booth 10.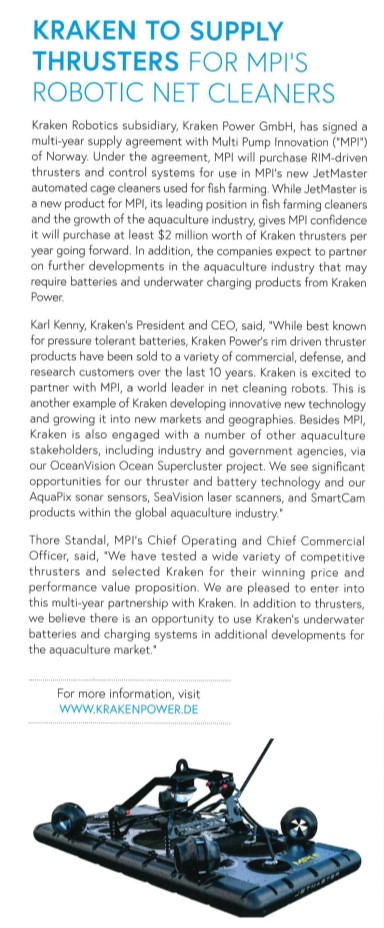 Image source: ON&T, January 2020
Presence in printed media
An article about Kraken Power can be found in the Ocean News & Technology magazine (January 2020) on page 39.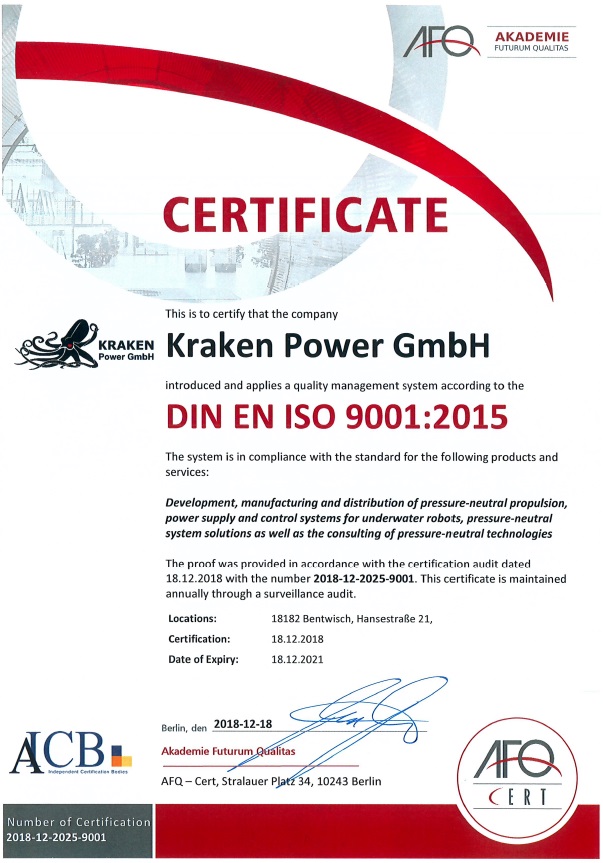 Image source: Kraken Power GmbH
Achieving ISO 9001:2015 certification
Kraken Power increased manufacturing capacity through the expansion of a new facility and addition of larger production equipment. In order to meet the ISO 9001:2015 standard, a company must demonstrate adherence to a Quality Management System that outlines good business practices and ensures consistency in providing products and services that meet customer and applicable industry requirements.
Achieving ISO 9001:2015 certification demonstrates our commitment to maintaining our position as a world-class provider of deep-sea pressure tolerant encapsulation technology, products and services. The advanced procedures associated with this certification will allow us to operate more efficiently, reach new markets and identify and address upcomming risks.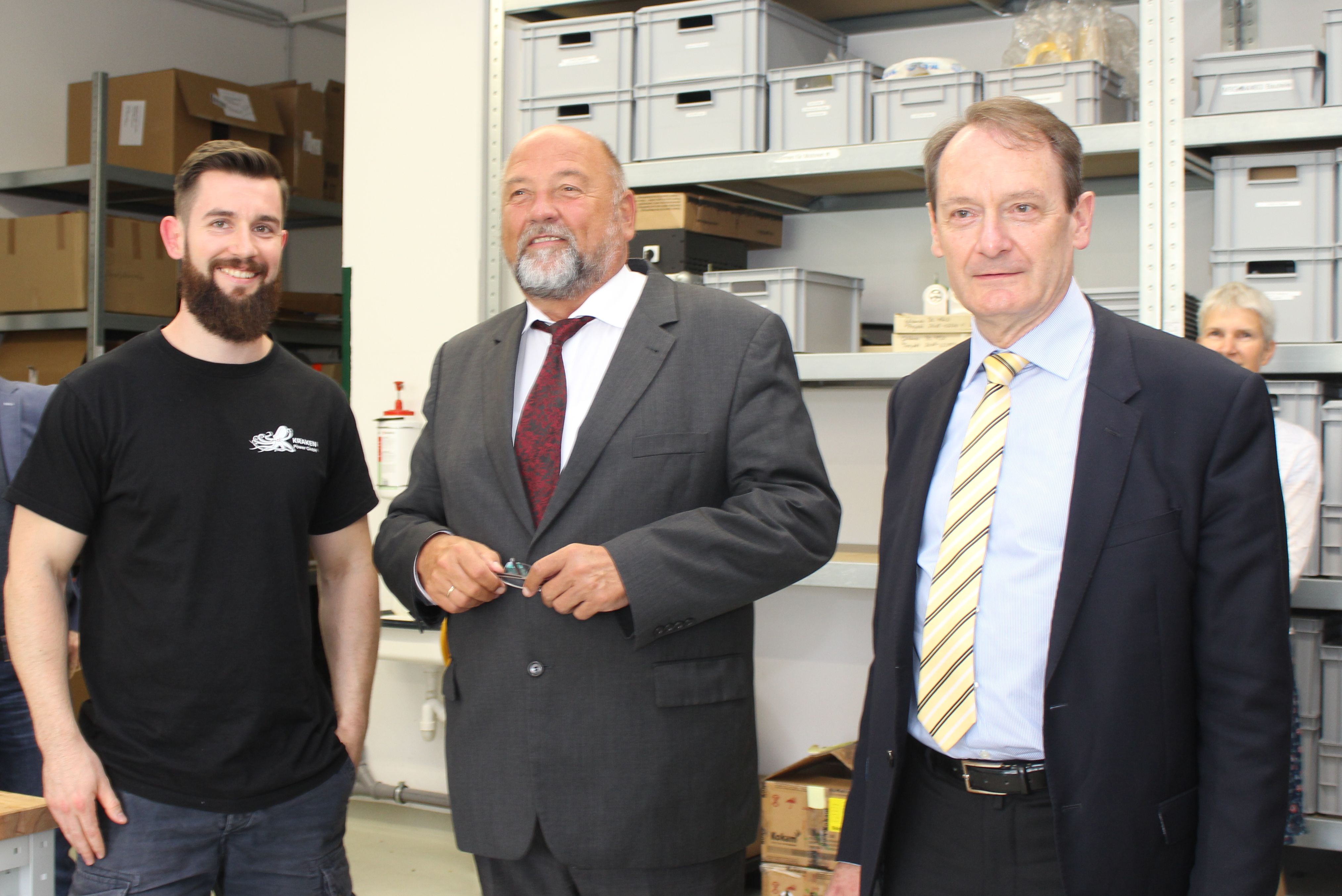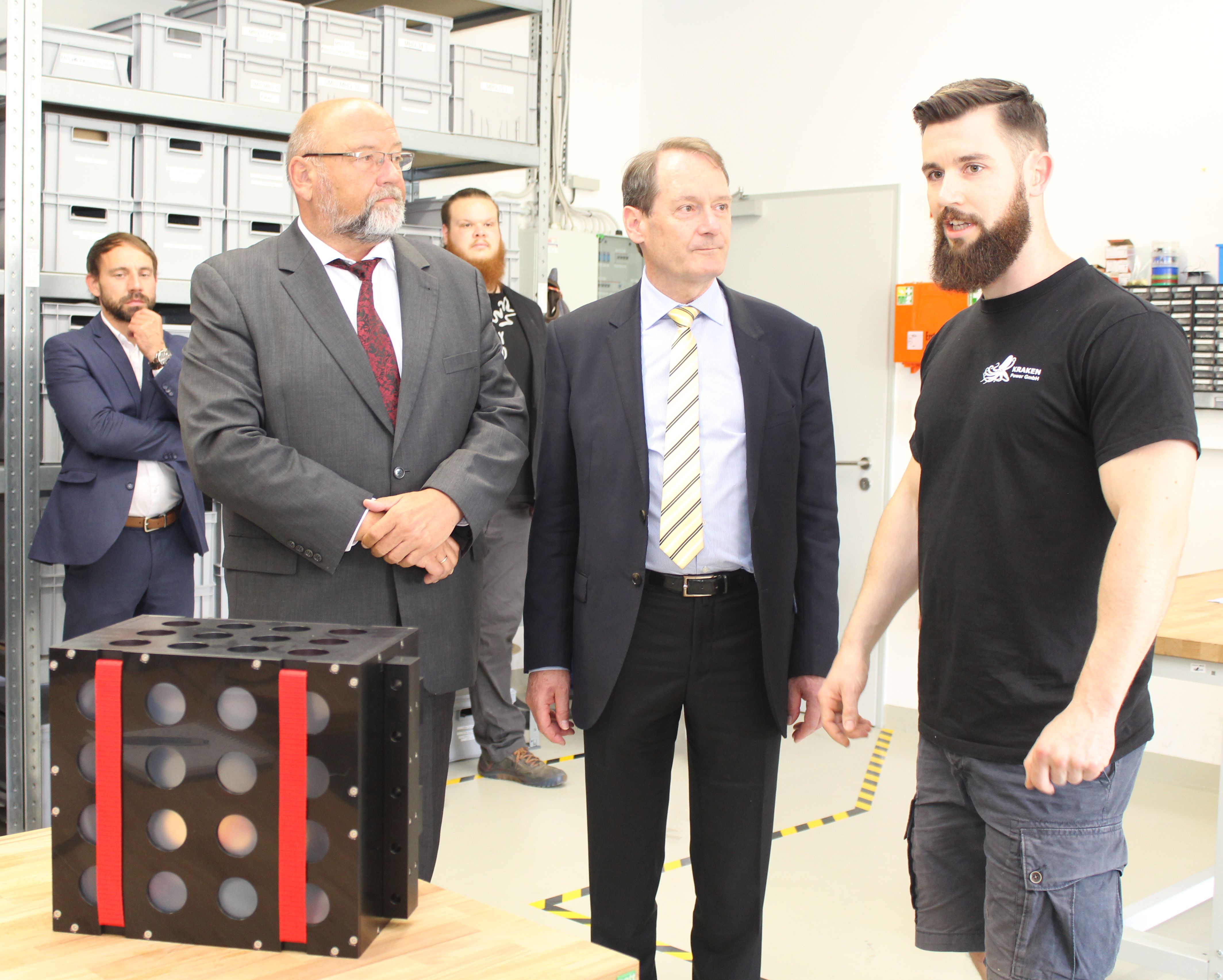 Image source: WM (Ministry of Economics, Employment and Health)
Minister Harry Glawe visited Kraken Power GmbH with a EU delegation.
On June 14, the Minister of Economics, Employment and Health, Harry Glawe, payed a visit to the region´s flagship, Kraken Power GmbH, with a EU delegation.
Kraken Power GmbH stands for innovation in drive and battery systems for diving robots. Minister Glawe, his staff and a delegation  from Brussels were highly interested in our technology, which was porudly presented by our team.  He also visited our mechanical and electronical workshop and saw our thruster in action. We were able to convince them of our interesting and innovative products.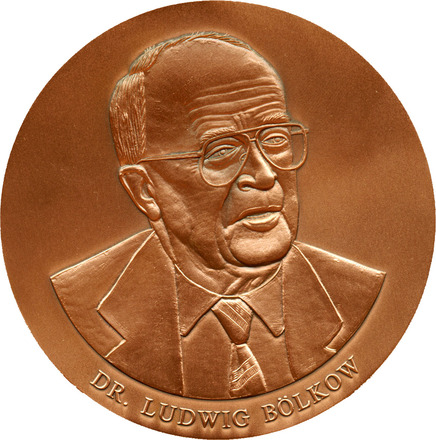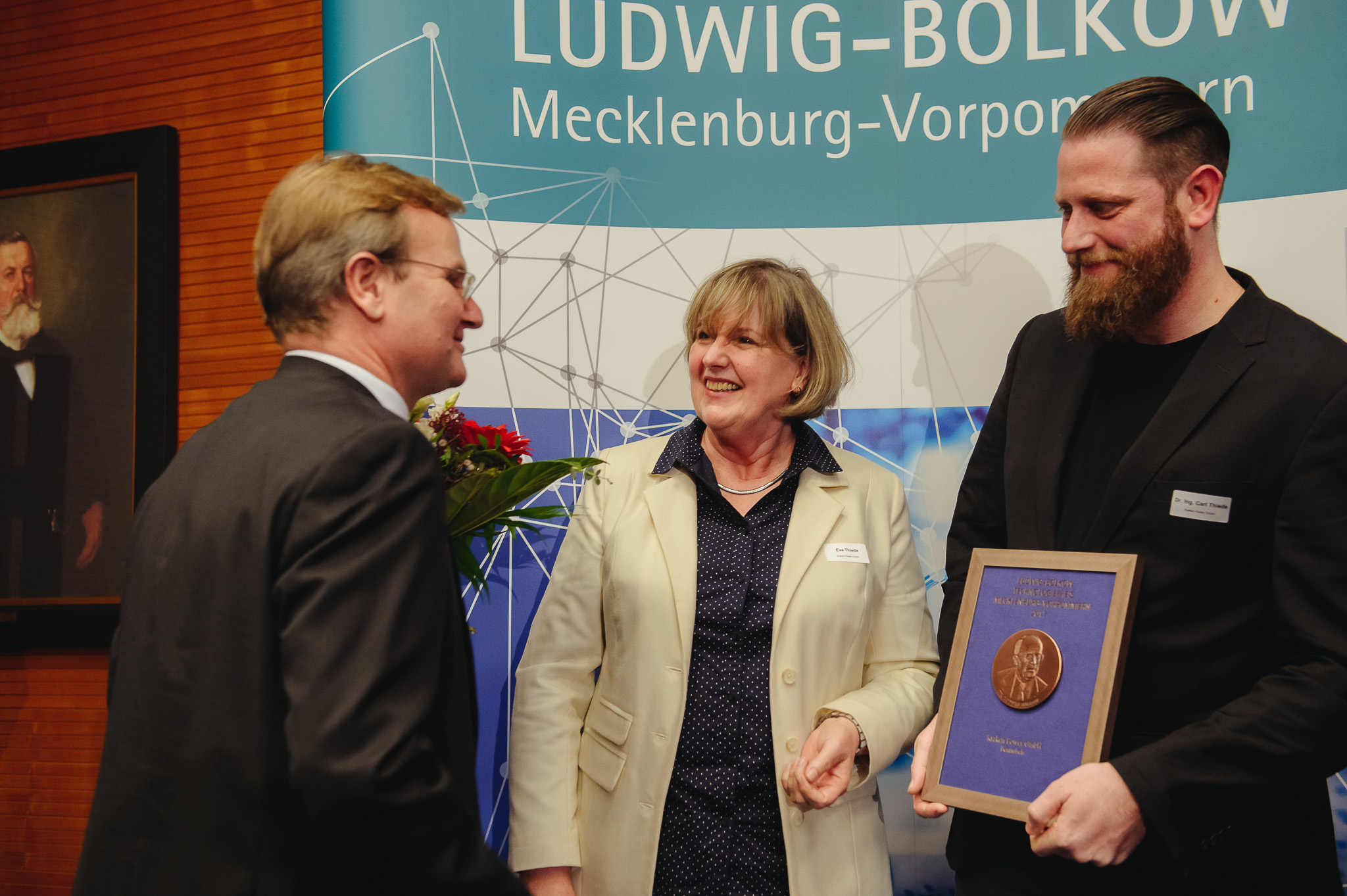 Image source: Ludwig Bölkow Technology Prize 2017
Kraken Power GmbH was awarded the renowned Ludwig Bölkow Technology Prize 2017.
On December 11, more than 100 guests participated at the national LUDWIG-BÖLKOW Technology Prize 2017 . The award took place in the Rostock Chamber of Industry and Commerce for the 15th time, where two innovative companies from the fields of marine technology and mechanical engineering were sharing the prize of 10,000 €.
Kraken Power GmbH was awarded for its innovative drive and battery system for diving robots. The pressure-neutral systems can be used at sea depths of up to 6,000 metres. They use a new pressure-body and fluid-free technology for the use of mechanical, electrical and electronic underwater systems (underwater robots). They can be used for research purposes, but also for oil and gas production in the deep sea. The use of elastic materials, which encloses the incompressible components, has led to a significant cost reduction compared to pressure-resistant systems.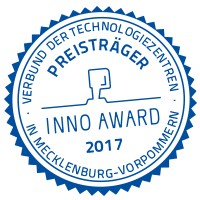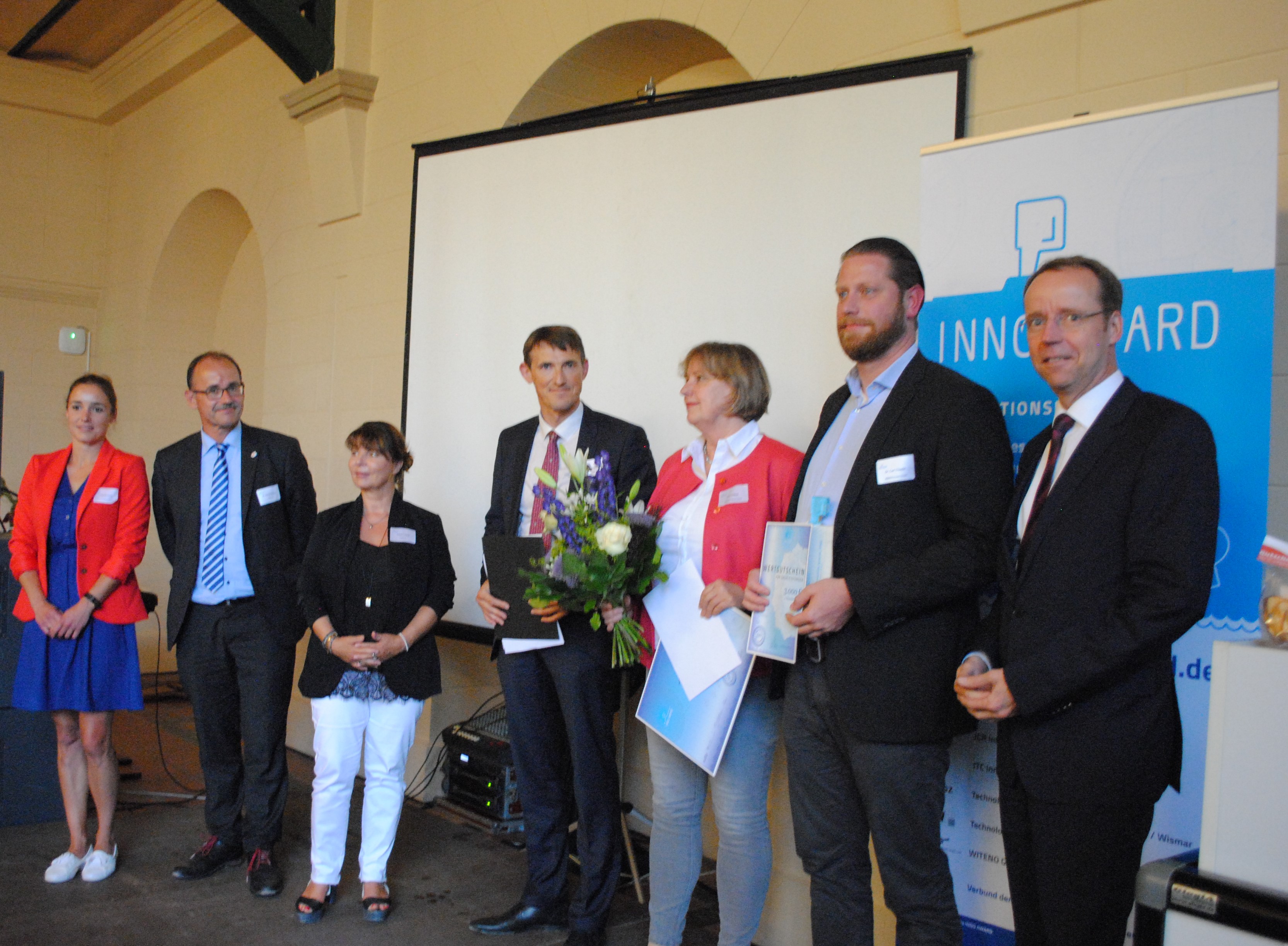 Image source: Inno Award 2017
Kraken Power GmbH was awarded for the second place for "Druckneutrale Systeme (DNS)" (Pressure Neutral Systems) of the INNO AWARD 2017
On 29 June 2017, for the fifth time, the prizes for the INNO AWARD innovation prize, which was donated for the first time in 2013, were awarded at the Orangery of Schwerin Castle. This year, 24 projects were approved for evaluation by the jury.
The jury decided to award a special prize for IT because a large part of the submitted applications came from the digital environment, such as networking, process and service innovations. Other focal points were innovative product developments and improved production processes.
What is new is that this year's entries came mainly from existing companies. Approximately a quarter of the remaining applicants are already planning to found a company.